Jeff has never been more relieved than the day FloodSax alternative sandbags saved his Kent home from the misery of flooding.
The retired educationalist had long had a problem with water cascading off the main road close to his home and down the driveway right to his front door (pictured below).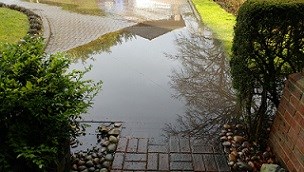 The flooding was caused by the road being resurfaced over several years. A little channel had formed down the side of the road edge and when it rained the water shot along this little runway and then down his drive. Jeff also thinks it's simply raining more these days too, possibly due to climate change.
Jeff bought some sandbags to try to solve the problem by stopping the water getting into the verge in the first place, but they were very heavy to lift and, ultimately, didn't work and let the water through.
One Saturday in late 2020 the rain was so bad he contacted Kent Highways as an emergency and within a couple of hours a crew were there with FloodSax sandless sandbags.
Jeff said: "The rain was terrible with water coming straight down the driveway and was just two or three inches from getting through the door. We really feared we were going to get flooded with all the damage that would case. We even thought 'would we ever be able to get flood insurance again?'
"We were so relieved to see the council workers and I'd never seen a FloodSax before but one of the guys said 'they're excellent' and showed us how to put them in the floodwater so they would absorb it to become just like sandbags in minutes.
"We put them up on the verge to stop the water getting down in the first place and then some to protect our front door as a precaution. I found them so light to move around and deploy. They were extraordinary. FloodSax provided us with immediate help when things were looking nasty."
Jeff left them in place for a few weeks and then replaced the ones on the road with new FloodSax.
He explained: "They are white which made them easy for drivers to see by the side of the road. The FloodSax are so obvious and bright we think they actually slowed the traffic speed down as they could see something on the verge."
That was six months ago and Kent Highways has now installed heavy duty kerbing along the road which should prevent the problem happening again but Jeff is keeping some FloodSax at his home just in case.
He added: "We have some neighbours along the road who had a similar problem with water running into their gardens so they used the FloodSax when we'd finished with them and put them outside their home to stop the water getting in.
"When I was originally using the sandbags to try to sort the problem they were difficult to shift owing to their weight so they were a bit of a heave-ho problem. I thought then that there must be a better way … and then there was."