One of our distributors is Floodshield which provides an easy fit anti-flood door barrier.
It simply clips to and seals against door frames, requires no tools, comes in six standard sizes and has been extensively tested by world-leading flood experts.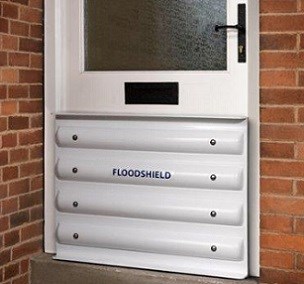 The Floodshield works with inward-opening doors and around 70% of all doors in the UK, but for those that it can't fit, Floodshield offers FloodSax sandless sandbags.
Leeds-based Floodshield state: "A small number of front and back doors do not work with Floodshield. This can be because they are wider than normal, are outward opening or have no useable doorframe. In these circumstances we offer FloodSax which provide flexible, high -performing, flood protection for your door."
The beauty of FloodSax is that they can be soaked in water which they absorb to become instant alternative sandbags to prevent water getting or the FloodSax can be built into a barrier to divert floodwater away from homes and businesses.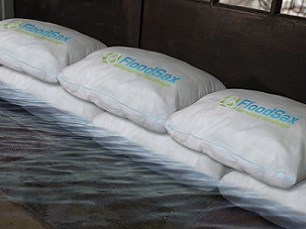 In their dry state the FloodSax's super-absorbency means they can soak up leaks, spills and floods inside, especially in hard-to-reach places such as beneath floorboards, radiators and central heating boilers.
Floodshield asks customers how their products they sell work in action and here is what one, Alison Redpath, said about FloodSax.
Although she's bought them to keep water out of her property, she realised how flexible FloodSax can be when she suddenly needed them inside to deal with an internal flood during an emergency, preventing a large amount of water damage.
Alison said: "We bought FloodSax for future weather-related flood situations. However, we needed them much sooner when a workmen-related flood occurred out of the blue.
"They were instantly accessible and 'walled off' the water ingress which could not have been anticipated and before it spread to other areas. I'd recommend any household to have a store of FloodSax. Floods cause damage because they are invariably unexpected and having flood sacks is a great safeguard."
Floodshield (https://floodshield.com/) cost £299 and the price includes free delivery, a 2-year manufacturer's warranty and a 60-day money back guarantee.